GCU Alumni Awards
At the Office of Alumni Relations, we take great pride in recognizing the accomplishments of our esteemed GCU graduates through alumni awards programs. Every year at Homecoming, we honor outstanding alumni accomplishments by inducting new members into the GCU Alumni Hall of Fame. We also recognize outstanding seniors and faculty from GCU's main campus at the annual Senior Dinner.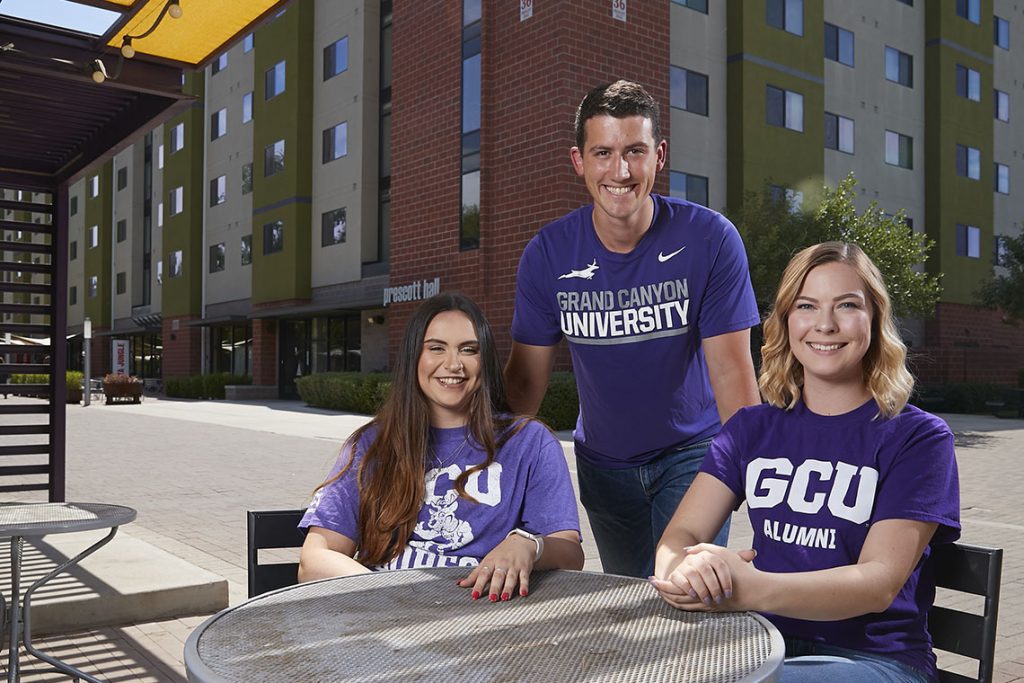 GCU Under 30
GCU's young alumni are using their education to make an impact in their careers and on the people they serve. Every year, we recognize our "under 30" alumni who have made outstanding achievements early on in their careers.
Alumni Hall of Fame
The Alumni Hall of Fame celebrates and honors the accomplishments of GCU's notable alumni. These individuals exemplify the spirit of GCU and have made significant contributions to the university and as humanitarians to our society. They do more than succeed in a job or career. They distinguish themselves in their fields and show great dedication to others.
In the past, inductees have had the following qualifications:
Graduated from GCU a minimum of five years prior to nomination
Distinguished themselves in their chosen professional field of endeavor
Contributed to the college in outstanding ways or made significant humanitarian contributions to the community or beyond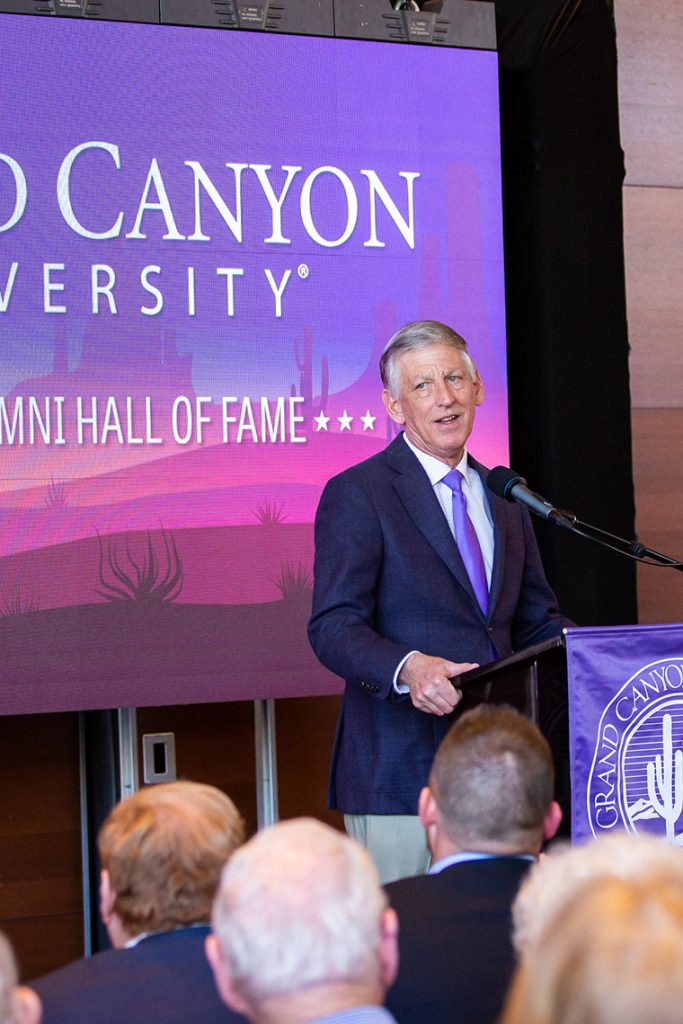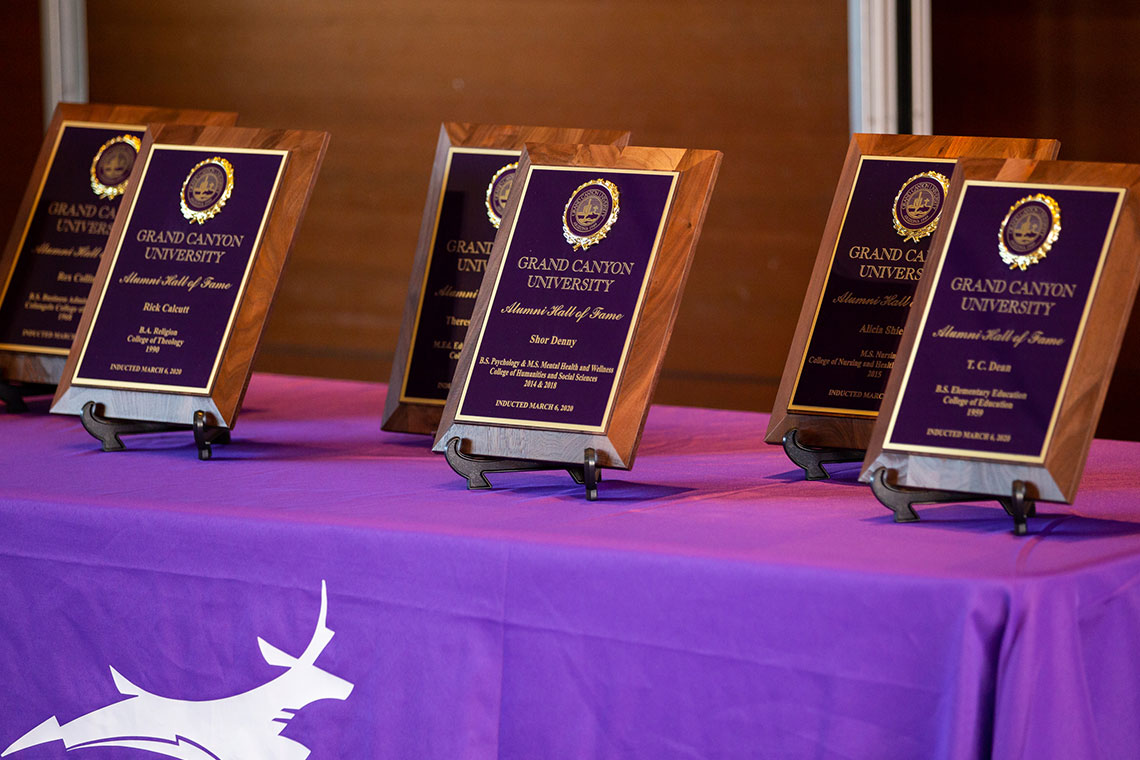 Past Inductees
2021 Inductees
Rachel Winkler

College of Humanities and Social Sciences, Class of 1997

Rachel Winkler serves as the vice president of individual segment at Blue Cross Blue Shield. Rachel has spent the past 21 years with Blue Cross Blue Shield, serving in a variety of positions, including as director of healthcare economics. Rachel graduated from GCU with a Bachelor of Science in Mathematics in 1997.
Garth Bailey
College of Science, Engineering and Technology, Class of 1981
Garth Bailey is a Phoenix native with over 38 years of experience in the IT industry as a software professional. Most of his career has been in the aerospace and defense industry with Lockheed Martin in Goodyear, AZ. Bailey has been a software developer and has built and led high-performing teams who have contributed to state-of-the-art intelligence systems. He earned his master's in technical management and his PMP from Embry Riddle Aeronautical University. Bailey has served his community through the American Cancer Society's Climb to Conquer Cancer for 19 years. His passion for this cause is driven by the memory of his sister Donna (GCU class of '84), who lost her battle with cancer in 2002. He has also served in his local church in a variety of lay leadership positions over the years. Bailey is an elder, small group leader and a member of the worship team in a technical role. He is currently the chief financial officer for Lorts Manufacturing, a producer of high-quality wood furniture in the Phoenix area. Bailey and his wife, Linda, have three sons and five grandchildren.
Scott Van Newkirk
Colangelo College of Business, Golf Student-Athlete, Class of 1991
Born and raised in Gering, NE, Scott Van Newkirk attended GCU where he competed on the golf team from '86 through '91, graduating with the class of '91. He holds a bachelor's degree with an emphasis in business administration and marketing. After college, Scott began his career in the golf industry at Desert Mountain Club, moving on to Eagle Mountain as the general manager in 1995 and, eventually, to Troon in 2002. Scott has worked at Troon for 19 years where he has held various roles, including operating the Asia division based out of Tokyo, serving as the regional director of operations overseeing both resort and private clubs and, most recently, as the global development officer leading all business development initiatives. He's been married to his high school sweetheart, Heidi Notman Van Newkirk (also GCU class of '91) for 28 years and is the proud father of two amazing children, Tanner and Brynn, and his yellow lab, Babe. Scott is proud of his affiliation with GCU and incredibly humbled and honored to be selected for this award.
Dan Snyder
Colangelo College of Business, Baseball Student-Athlete, Class of 1997
Dan Snyder was a GCU student and member of the baseball team from 1995 to 1997. He graduated from GCU in 1997 with a Bachelor of Science in Business Administration, with cum laude honors. Dan was the recipient of the Top Marketer Award in his graduating class. Shortly after college, Dan joined American Express Global Business Travel (formerly part of American Express Co.) where he still works today after 23 years. In 2008, as director of operations in Miami, he received top honors with the President's Club award for his achievements and contributions to the business. Since 2011, Dan has been a member of the senior leadership team as vice president of operations in the Americas, and more recently, as vice president of mergers and acquisitions.
2020 Inductees
Pete Gorraiz
Bachelor of Science in Business Management, Class of 1954
 
Pete Gorraiz graduated from GCU in 1954. He played on the men's basketball team and was a member of the first men's baseball team while attending. Pete taught sixth and seventh grade for 34 years in the Squaw Peak School District, dedicating countless hours to his students and deeply investing in each of his schools. Pete has also volunteered much of his time to the university, even helping to establish the antelope monument that stands at the entrance of GCU today.
Rex Collins          
Bachelor of Science in Business Administration, Class of 1968
Rex Collins has always been an active member of the GCU community, being heavily involved in student government and acting as student body president during his senior year. After graduating and entering the food industry Rex started his own food brokerage company, Collins, Benford & Gray and served as president for 23 years. Rex has been recognized as the 1999 Ernst & Young "Entrepreneur of the Year" and as Arizona Food Marketing Alliance's 2016 "Supplier of the Year." Rex also serves on several charities, including the March of Dimes, City of Hope organization and the Salvation Army.
Rick Calcutt
Bachelor of Science in Vocal Performance, Class of 1990
Bachelor of Science in Ministry, Class of 1990
Rick Calcutt has served in ministry for over 35 years, striving to serve God through music and worship. He started out his ministry as a children's pastor and since then has worked as a worship leader and creative arts pastor for churches throughout Arizona. Rick has written children's worship curriculum for 15 years, and in 2010, published his own book, "The Blame Game." Throughout his ministry, Rick has used his talents to bring together teams of creative people to further the kingdom of God through worship.
Theresa Killingsworth
Bachelor of Arts in Elementary Education, Arizona State University, Class of 1999
Master of Education in Educational Administration, Class of 2008
 
Theresa Killingsworth has worked as a teacher, academic coach, character education trainer and principal for the Alhambra Elementary School District. After graduating from GCU, she remained involved in the community and has since organized a mission trip that brings members of the GCU and Alhambra communities to the Dominican Republic. The mission trip is the only education-based trip to the Dominican Republic, providing professional development to teachers in the country and aiding in the construction of much-needed buildings. Her goal both in and out of her professional life has always been to create a positive impact in children's lives.
Shor Denny
Bachelor of Science in Psychology, Class of 2014
Master of Science in Mental Wellness with an Emphasis in Prevention, Class of 2018
Shor Denny has spent her career working as an advocate for at-risk populations. Shor began her public service with the Safe Routes to School program, which used over $9 million in grants to improve the safety of pedestrians and bikers in Moreno Valley, California. Shor is the founder and CEO of Community Now, an organization that provides mental wellness programming for California youth. She additionally founded the Get Plugged In program to teach students positive coping skills and the Me, Myself & Mine program, which educates foster families on taking care of curly hair. Shor has received many awards for her community work, including Woman of the Year and the Women of Distinction Award.
Alicia Shields
Master of Science in Nursing Leadership, Class of 2015
 
Alicia Shields' work has shaped the field of nursing in Washington and Arizona. She has worked as the chief nursing officer of multiple hospitals, transforming the culture of each. At a former hospital, Alicia founded a leadership program to develop future leaders within the organization. She has served on an advisory panel for the Arizona Nursing Association's revision of the Nursing Code of Ethics and on the Arizona Nurses Public Policy Committee. Alicia also donates her time to the community, working as a volunteer fire fighter and acting as an anti-human trafficking advocate. She is scheduled to present on human trafficking in Italy and her first book, "The Empowered Nurse," will be released in November.
 
T.C. Dean
Bachelor of Science in Elementary Education, Class of 1959
T.C. Dean was recruited to attend GCU on a basketball scholarship, graduating in 1959 as the first black student to earn their degree at GCU. T.C. spent his 50-year education career in the Phoenix Elementary School District, returning to schools he had attended as a child to work as a teacher and a principal. He remains the record holder for most rebounds in a season, with 20.1 in the 1957-58 season. T.C. hopes that through his story he is able to inspire and be a role model for other young black students at GCU.
 
2018 Inductees
Eric Rasmussen
Baseball Student-Athlete, Class of 1981
Eric Rasmussen was a GCU baseball catcher from 1978 to 1980. He was a First Team All-American in 1979 and 1980. He made it to NAIA District Championships both years he was on the team and was on the national championship team in 1980. His career batting average was .370 with 30 career homeruns. In 1980, he played on the USA Baseball team and signed a professional contract with the California Angels in 1980.
Michael Baird, PhD
College of Humanities and Social Sciences, Class of 1971
Michael Baird is a Bible, theology and ministry educator. He was a professor at Grand Canyon University for over 35 years and has also educated students in Bible and theology at Gateway Seminary, Fuller Seminary, Wayland Baptist University and Kino Institute. He is devoted to inner-city ministry and is a part-time pastor and preacher at several congregations, serving urban, poor and multilingual ministries.
Cathy Poplin
Colangelo College of Business, Class of 1992
Cathy Poplin is a board member and the current executive director of the Arizona Technology in Education Association. She is the deputy associate superintendent for educational technology at the Arizona State Department of Education. She focuses on e-Learning Task Force, IDEAL Education Portal, Statewide Instructional Technology Project, Intel(r) Teach Affiliate and the EETT program. She is also a member of the State Educational Technology Directors Association Board of Directors.
Mystie Johnson Foote, MD
College of Science, Engineering and Technology, Class of 1994
Colangelo College of Business, Class of 2015
Dr. Mystie Johnson Foote worked for Banner Health from 2011 to 2018, where she also completed her residency and training in OBGYN from 1998 to 2002. She was the founding owner of West Valley Women's Care private practice, where she practiced as an OBGYN from 2002 to 2016. During her seven years at Banner Health, she served in multiple leadership roles, including CEO and CMO of the Banner Medical Group, CMO of Banner Thunderbird Medical Center and CMO of Banner Del E Webb Medical Center. She is now enjoying retirement and planning her next chapter.
James Carter
College of Science, Engineering and Technology, Class of 1957
James Carter worked for the City of Phoenix from 1965 to 2005. He was the assistant prosecutor from 1965 to 1972, chief prosecutor from 1972 to 1974, assistant city attorney from 1974 to 1986 and the city magistrate from 1991 to 2005. He was a member of the Board of Governors of Phoenix Baptist Hospital from 1965 to 2000 and has been a member of the Board of Directors since 2000. He was the president of the Antelope Foundation at Grand Canyon University from 1979 to 1982 and a member of the Board of Trustees from 1983 to 1989.
2017 Inductees
Dr. Jackie Schiller II
Ken Blanchard College of Business, Class of 2007
College of Doctoral Studies, Class of 2016
Dr. Schiller is a decorated member of the United States Marine Corps where his time served was nothing short of noteworthy. After graduating with distinction from Basic School and Infantry Officers courses, Dr. Schiller was assigned as a platoon commander and participated in two 31st Marine Expeditionary Unit patrols and a three-month deployment to the Philippines. Later, in June 2008, Schiller served as rifle company commander, weapons company commander and battalion executive officer in deployment for Operation Iraqi Freedom. Upon completion of the tour, he assumed command of Weapons Company where he led a successful rescue mission for the MV Magellan Star, a commercial vessel that had been captured by Somali pirates off the coast of East Africa. His personal decorations include the Meritorious Service Medal, Navy and Marine Corps Commendation Medal (with three gold stars) and the Navy and Marine Corps Achievement Medal (with three gold stars). Major Schiller is now retired from active duty and serves as the senior military instructor at Round Rock (Texas) High School.

Michael Rochelle
College of Theology, Class of 1975
After completing a Bachelor of Arts degree in religion from GCU in 1975, receiving ordainment and later earning a master of divinity degree, Michael Rochelle joined Shadow Hills Church in Las Vegas as the senior pastor. In 1986, the church had attendance of around 250 people each week. Thirty years later, under Rochelle's leadership, Shadow Hills Church has grown to more than 3,000 people in four weekend services. Rochelle serves on multiple Baptist convention boards of directors, is president of the Nevada Baptist Convention and is vice chairman of the board of Canyon Institute which supports the GCU Scholarship Foundation and makes grants to numerous Christian organizations in Arizona and around the world. Mike Rochelle has been so impactful on the city of Las Vegas that in 2011 Mayor Carolyn Goodman declared October 1 "Michael Rochelle Day."
Tim Carter
College of Education, Class of 1973
Tim Carter is the superintendent of Yavapai County Schools where he oversees 26 school districts, 24 charter schools and 96 campuses throughout the county. Having spent nearly 45 years in the education industry, Carter has an extensive list of career positions and achievements. Carter was selected for the North Central Accrediting Association's Circle of Excellence in 2001, has been recognized with the Robert Taft and Melvin Jones Fellowships, was inducted into the Arizona Track Coaches Hall of Fame and was selected as the 2003 Arizona School Administrator of the Year. Unanimously appointed as the Yavapai County School Superintendent by the Board of Supervisors in 2005, Carter was re-elected for the position in 2006, 2008, 2012 and 2016.

Kimberly Tobey
College of Humanities and Social Sciences, Class of 1989
College of Education, Class of 1999
Kim Tobey's passion for leading students to higher education began as a GCU employee in the College of Education. Currently, Tobey is the director for community partnerships and programs in the Education Preparation Program at Rio Salado College, one of 10 Maricopa community colleges in Arizona, and is the executive director for the National Association of Community College Teacher Education Programs. During her 16-year tenure with Rio Salado College, Tobey has partnered in the development of a state approved community college post-baccalaureate teacher preparation program, an alternative path program for certification, and an undergraduate 3 + 1 Bachelor of Education partnership. She currently serves as the vice president of the Coalition of Affiliation Councils through the American Association of Community Colleges and president of the Arizona Educator's Rising Advisory Board.
Michelle Knapp
Women's Tennis Student-Athlete, Class of 1991
Michelle Knapp is one of the most decorated student-athletes in GCU women's tennis history. Knapp competed for the Lopes all four years at GCU, earning 1st Team All American three times and All American Scholar twice. Knapp ranked in the NAIA Top 25 nationally all four years, including a third overall singles ranking her senior year and third in doubles her junior year. Michelle won NAIA District VII Team Championships in all four years that she played. In addition, no team on which Michelle played ever finished the season worse than 9th nationally, including a second place finish her sophomore season. Knapp is the only player in GCU tennis history to earn the NAIA's top three individual tennis awards: Rookie of the Year, Arthur Ashe Award and Senior Player of the Year Award.
2016 Inductees
Dr. Brian Bucina
College of Science, Engineering and Technology, Class of 1998
Dr. Bucina is Chairperson of the Department of Surgery at Little Colorado Medical Center in Winslow, Arizona, where he is also the founder and medical director for the center's Wound Care Clinic. Board Certified in General Surgery, Dr. Bucina serves as Clinical Faculty at Midwestern University, A.T. Still University, Michigan State University, and the University of Arizona. Prior to beginning his decorated career, Dr. Bucina graduated summa cum laude from GCU in 1998 and went to attend the medical school of Midwestern University. While attending GCU, he served as president of the Pre-Medical Club while also working in the campus health clinic.

John Davis
Men's Golf Student-Athlete, Class of 2001
John Davis is the most decorated student athlete in the history of GCU Golf. Davis earned NCAA Division II First-Team All American honors in both his sophomore and junior seasons and went on to become the #1 ranked player in the nation as a senior. Today, Davis' name continues to dominate the GCU record books, including a record eleven tournament wins which stands as more than twice that of the next closest competitor, as well as six of the 10 lowest single round tournament scores in Grand Canyon University men's golf history.
Max Fose
College of Humanities and Social Sciences, Class of 1994
Max Fose has emerged as one the world's leading practitioners in messaging and digital strategy. Currently the president and CEO of national advertising and public affairs firm IWS, his work has been recognized by The Wall Street Journal, U.S. News and World Report, Newsweek, ABC World News Tonight, CBS Evening News, CNN and MSNBC. Fose served as a Practitioner in Residence at the Institute for Politics, Democracy, and the Internet at George Washington University, and for two years as an Expert Panelist for the Congress Online Project. He was recognized by Politics Online, Harvard University and the American Association of Political Consultants as one of 25 Internet Professionals Changing the World of Politics.

Dr. Nicholas J. Markette
College of Doctoral Studies, Class of 2008 and 2011
The director of finance and strategy for Zenith Media and Tracking is also a senior doctoral adjunct supervisor for GCU's College of Doctoral Studies and teaches with the Colangelo College of Business, overseeing 24 adjunct faculty members who hold doctorates. Markette is a past winner of the Outstanding Graduate Dissertation Award from the Arizona Professors of Education Administration.
Dr. Jim Rice
College of Education, Class of 1971
Dr. Rice served the Alhambra Elementary School District for 39 years before retiring in 2010 as superintendent. Alhambra School District is a sprawling and culturally diverse district serving more than 14,000 students in preschool through eighth grades across Phoenix and Glendale, Arizona. Currently in his 45th year in the education profession, Dr. Rice is continuing his service as interim superintendent for both Gilbert Public Schools and Union Elementary School District. Dr. Rice has received a host of awards and recognitions, including ASA Administrator of the Year-Superintendent Division in 2006 and Arizona's Superintendent of the Year in 2007.
Andrew Unkefer
College of Business, Class of 1990
While still attending Grand Canyon University, Andrew Unkefer married his high school sweetheart and fellow GCU student Amy. By 1994, they had founded Unkefer & Associates, a national insurance marketing firm which now distributes financial solutions through thousands of agents across America. The company's mission is "Helping Americans achieve retirement success." With the assistance of Executive Vice President and fellow GCU alumni Chad Hilkemeier, Unkefer & Associates has evolved into a nationally respected brand. Andrew has received many insurance industry awards for service, creativity and market innovation as well as job creation and public impact. In the community, Andrew extends his leadership as a member of the Board of Directors for two Christian universities.
2015 Inductees
Calvin Baker
College of Education, Class of 1973
Calvin Baker has come a long way during his 42-year career in education. He has been superintendent for one of Arizona's top three school districts, Vail School District, located in Vail, AZ, for over 26 years. His leadership roles include president of both the statewide superintendents group and the Arizona School Administrators Association. Baker has been recognized as Arizona Superintendent of the Year and Mentor of the Year by the Arizona Daily Star. Baker has also been awarded the Lifetime Achievement Award from the Pima County Metropolitan Education Commission.

Dr. Stephen Hall
College of Science, Engineering and Technology, Class of 1990
Dr. Stephen Hall has extensive experience in molecular medicine and biomedical engineering and has founded several life science companies. He invented a vaccine technology that resulted in novel vaccines for several diseases. In addition, he developed a class of biomaterials that are being used to treat a number of diseases, including cancer and hereditary muscle diseases. Dr. Hall has held faculty positions where he taught, served as a thesis advisor and mentored graduate students. He holds a doctorate in biological sciences from Purdue University and has completed post-doctoral training in molecular and structural biology at The Scripps Research Institute.
Michael Kary
College of Arts and Media, Class of 1998
Michael Kary is a professor for the College of Arts and Media at GCU. For the last 17 years, Kary has worked as a professional actor and writer in New York, Los Angeles, San Diego and Phoenix. Kary has performed in and around New York City, most notably as an original cast member for the musical, "Fame on 42nd Street." Kary is also co-founder of Nobody in Particular, an award-winning production company with whom he has written and produced three television pilots, "Deal With It," "Little League" and "Surviving Out of Doors with Louis."
Mitchell Laird
College of Business, Class of 1972
Mitchell Laird is the owner and president of the law firm, Laird & Associates, P.C. He is also the owner and CEO of MCL Enterprises, Inc., the largest Burger King franchise in Arizona. He serves as the CEO of Canyon Institute, a non-profit organization that awards grants and gifts to Christian non-profit organizations. Laird is a member of the Arizona Bar Association, Maricopa County Bar Association and the Christian Legal Society, and serves on the board of directors of the Arizona Chamber of Commerce. In 2013, he was appointed as one of five commissioners to the Arizona Clean Elections Commission.

Horacio Llamas Grey
Basketball Student-Athlete, 1994-96
Horacio Llamas Grey is an assistant coach with the Pioneros de Quintana Roo, a professional basketball team based in Cancun, Mexico. As a student-athlete at GCU, he was named NCAA Division II Player of the Year. Llamas also earned First Team All-California Collegiate Athletic Association (CCAA) honors, when he helped GCU win the CCAA Postseason Championship Tournament and a spot in the NCAA Division II Regionals. Llamas played basketball professionally for 17 years, including two seasons in the NBA with the Phoenix Suns. He made NBA history, being the first Mexican-born player to appear in a regular season game.
Dr. Timothy Sieges
College of Humanities and Social Sciences, Class of 1975
Dr. Timothy Sieges is the clinical director of counseling ministries for Wycliffe Bible Translators, an international mission organization that translates and delivers Scripture to people around the world. Since 1987, Dr. Sieges' work at Wycliffe has included counseling, consulting, leading workshops and seminars, conducting post-trauma debriefings and supporting the work of missionaries around the globe. Dr. Sieges traces his passion for God's Word, world missions and service to the Body of Christ to his undergraduate experience at GCU.
Maggie Kigen
College of Nursing and Health Care Professions, Class of 2010 and 2014
Maggie Kigen is a registered nurse at Maryvale Hospital in Phoenix and also owns Eldama Ravine Children's Home, an orphanage in her home country of Kenya. Kigen felt God's call on her heart to start an orphanage, which now has about 30 children. She also takes frequent mission trips. On her next trip she will be traveling to Kenya to help educate nurses in the area as well as visit her orphanage. In addition to volunteering to help those who are less fortunate, Kigen is very active in her local community and church.
Dr. James White
College of Theology, Class of 1985
James White is the director of Alpha and Omega Ministries, a Christian apologetics organization based in Phoenix. White is also an elder of the Phoenix Reformed Baptist Church and a professor, having taught Greek, Systematic Theology and various topics in the field of apologetics. White has also authored and contributed to more than 24 books and is an accomplished debater. He has engaged in more than 140 moderated public debates around the world in locations such as Sydney, Australia, as well as mosques in Toronto, London and South Africa.
2014 Inductees
Stephen Barnes
College of Business, Class of 1981
Stephen Barnes has been in the financial services industry for 30 years, thriving through four major market declines. A chartered financial analyst and certified financial planner, he owns Barnes Investing Advisory Inc., Phoenix, where he specializes in portfolio management and supervision. Barnes writes about and discusses financial topics for media outlets and professional associations, and is a member of the Desert Schools Federal Credit Union Board of Directors, the CFA Institute and the Financial Planning Association.

D. Samuel Coffman
College of Arts and Sciences, Class of 1980
D. Samuel Coffman, an employment law attorney at Dickinson Wright/Mariscal Weeks of Phoenix, uses his degree to help those who cannot afford or otherwise cannot access legal services. He is a longtime board member of two nonprofits, Uplift Ministry, providing free Christian counseling to teens and at-risk families, and Helping Hands for Single Moms, helping single mothers obtain financial independence through college education. Coffman has been recognized by Best Lawyers in Arizona, Best Lawyers in America and Arizona's Finest Lawyers.
Michelle Gilman
College of Nursing and Health Care Professions, Class of 1984
Michelle Gilman has contributed significantly to regional programs focusing on improved patient outcomes through innovative delivery systems. Gilman is director of education and founder of the Learning Institute at St. Joseph's Hospital and Medical Center in Phoenix. Her background is in intensive-care nursing, organ-donor recovery, hospice and adult education. Gilman was instrumental in implementing the first Arizona nursing education-practice partnership model with GCU and currently leads development of a nursing simulation center and American Heart Association Training Center.
Nick Halonen
College of Arts and Media, Classes of 2004 and 2008
Nick Halonen believes God has called him to be a role model for teenagers. For 10 years, he has been the choir director at Phoenix's Trevor G. Browne High, a socio-economically disadvantaged school, where he also offers emotional support and encouragement. Students chose Halonen as 2013 Teacher of the Year, and staff named him Employee of the Year in 2009. He is an assistant director of the Phoenix Children's Chorus and, with his wife, GCU alumna Keslie Kattau Halonen, leads worship at Spirit Song United Methodist Church in Peoria, AZ.

Dr. Paul F. Kinnison
College of Theology, Class of 1978
Dr. Paul Kinnison has done some grand things in his life: He was pastor of Grand Canyon Baptist Church in Grand Canyon National Park and has taught at GCU. Today, as associate pastor of First Baptist Church, Sun City West, he focuses on Christian discipleship, pastoral care and mission ministries. A graduate of three institutions of higher learning, Kinnison has studied the needs of people in physical, emotional and spiritual crises, and worked with families grappling with domestic violence, grief and death.
Samantha Murphy
Basketball Student-Athlete, Class of 2011
Sam Murphy is easily the most "decorated" student-athlete in the history of GCU women's basketball. Murphy was named Pacific West Conference Freshman of the Year during her inaugural college season; PacWest Player of the Year twice; First-Team All-PacWest four times; and Daktronics First-Team All-American. Murphy was honored as PacWest Female Scholar Athlete of the Year three times and an Academic All American twice. In 2013, she was selected to the NCAA Division II 40th Anniversary Tribute Team. Currently, Murphy is finishing a physician's assistant program at Midwestern University in Glendale, AZ.
Natalie Wilcox
College of Education, Class of 1988
Natalie Wilcox learned to care for the heart of every child in her sphere of influence during her education at GCU. Wilcox, principal at Echo Mountain Primary School in Phoenix, has worked with orphans in Mexico and Romania, and is involved in programs that meet the needs of less-fortunate children. She has been a principal for 14 years and previously taught grades 5-8 for 10 years. Wilcox was named Arizona's Gifted Principal of the Year in 2006, and has taught at GCU and Arizona State University, among other institutions.
2013 Inductees
Cynthia Mote Elliott
College of Nursing, Classes of 2006 and 2008
Cynthia Mote Elliott, BSN, MSN, FNP-C, graduated from GCU with her Bachelor of Science in Nursing in 2006 and her Master of Science in Nursing as a family nurse practitioner in 2008. After graduation, Cindy and a colleague from Tucson took a leap of faith to open their own nurse-run clinic: Abundant Health Family Practice. Abundant Health Family Practice has a foundation based in Christ-centered leadership and service, where all walks of life are welcome. The mission is to promote the health and well-being of families by meeting the health care needs of those in the local Tucson community and surrounding areas.

Melissa Holdaway

Ken Blanchard College of Business, Class of 2008
Melissa Holdaway is the co-founder and chief operating officer of Arizona Charter Academy, where she oversees the accounting, human resources, marketing, facilities, strategic planning, legal, community development and technology. She is a veteran in the charter school industry with almost 20 years of leadership experience in for-profit and nonprofit enterprises, with the last 12 years in charter school operations and management. Arizona Charter Academy has received numerous awards including one of the Valley's "Best Place to Work" from Phoenix Business Journal and Top 25 Workplaces for Women. It has been recognized as one of Arizona's Most Admired Companies for the last three years by AZ Business Magazine. Melissa holds an Executive MBA from GCU and in 2010 was appointed by the governor to the Commission for Postsecondary Education. Melissa serves as commissioner for the General Plan Commission for the city of Surprise, chairs the Arizona State Charter Association Advisory Board Business Committee and serves on the West Valley Youth Leadership Council.
Steve Laube
College of Theology, Class of 1981
Steve Laube, a literary agent and president of The Steve Laube Agency, has been in the book industry for over 32 years, first as a bookstore manager where he was awarded the National Store of the Year in 1989 by the Christian Booksellers Association. He then spent over a decade with Bethany House Publishers, rising to the position of editorial director of nonfiction and was named the Editor of the Year in 2002. He later became an agent and has represented over 800 new books and was named Agent of the Year in 2009. His office is in Phoenix.

Glenn M. Ramey
College of Arts and Sciences, Class of 1959
Pastor Glenn M. Ramey transferred to Grand Canyon College in 1957. During his time at GCC, he served as president of the campus ministerial association and was co-editor of GCC's literary magazine, Shadows." In 1966, Pastor Ramey was called to assume the pastorate of West Dunlap Baptist Church, a former mission of the First Southern Baptist Church (now Cross-Connection International Fellowship). He would spend the next four decades there. Through the 60's and into the new millennium, Pastor Ramey served a faithful, committed group of believers at the little church on the corner of Dunlap and 39th Avenue in Phoenix. He has spearheaded, with the help of his church, the ministry to Burmese refugees in his community. What started with just one Burmese refugee has grown into a full church with its own pastor and services, and members in the hundreds.
Kimberly Rimbey
College of Education, Class of 1988
Kimberly Rimbey, a 1988 GCU graduate, is passionate about equipping teachers to maximize their potential for impacting student learning. A recipient of the Presidential Award for Excellence in Mathematics and Science Teaching, Kim has authored many publications, gleaning from her years as a kindergarten and first-grade teacher, elementary mathematics coach, district mathematics coordinator and a sought-after professional developer. Currently, Kim works for the Rodel Charitable Foundation of Arizona, whose aim is to raise student achievement at schools in high-poverty communities. Presently a PhD candidate, Kim plans to graduate from ASU this May with a PhD in mathematics education.
Amber Wagner
College of Arts and Media, Class of 2006
American soprano Amber Wagner is a winner of the 2007 Metropolitan Opera National Council Auditions Grand Finals and was featured in the documentary film "The Audition," which opened to audiences nationwide in 2009. Chosen by Opera News as one of 25 artists poised to break out and become a major force in classical music in the coming decade, Wagner began the 2012-13 season with a return to the Metropolitan Opera as Amelia in "Un Ballo in Maschera," conducted by Fabio Luisi. The season prior, Wagner triumphed in the title role in Strauss' "Ariadne auf Naxos" at Lyric Opera of Chicago, conducted by Sir Andrew Davis. Highlights from past operatic seasons included Wagner's European debut with the Prague State Opera, performing Brang ne in "Tristan und Isolde" with conductor Jan Latham Koenig, and performances with Lyric Opera of Chicago as Elsa in "Lohengrin," conducted by Sir Andrew Davis.
2012 Inductees
Dr. Robin Baker
College of Arts and Sciences, Class of 1980
Dr. Robin Baker has made an extensive contribution to the university setting. Dr. Baker is currently the president of George Fox University, after serving as provost for eight years. He has held other prominent administrative positions, including senior vice president of GCU, assistant professor of history at John Brown University and assistant professor of history at Wheaton College. Dr. Baker speaks frequently on integrating faith and learning in a Christian university setting. Dr. Baker and his wife Ruth married in 1980 while he was a student at GCU, and have three children.

Marci Salmon

College of Education, Class of 1989
Marci Salmon has made significant contributions to the community, including serving on the Laurel House Board, Family Matters Board and Changing Lives in Costa Rica Board. She taught kindergarten and second grade in the Paradise Valley School District. Salmon helped establish the Tim Salmon Foundation and the Tim Salmon and Marci Salmon Scholarship at GCU. Salmon has spent countless hours volunteering with Neighborhood Ministries, Maggie's Place, Scottsdale Christian Academy and Scottsdale Bible Church. Salmon has been devoted to serving those around her and raising her four children.
Jared Stauffer
Ken Blanchard College of Business, Classes of 1999 and 2008
Jared Stauffer is a Phoenix native and met the love of his life, Christine, while attending GCU. Together they have four wonderful children. Stauffer began his first company, Ad World, in 1995, a classified ad and auction website. In 1997, Stauffer shifted his focus to consulting and worked with such companies as Intel and Lehman Brothers. In 1999, Stauffer and Christine founded Brinkster, a managed and cloud hosting company in their New York City apartment. Today, Stauffer is still CEO of Brinkster, employing 35 people with 50,000 customers in 200 countries. Brinkster donates 1 percent of its revenues to charities and missionaries.

Shirley Righi
College of Nursing, Class of 1995
Shirley Righi has excelled in building a thriving nursing practice throughout her career. She currently is a clinical director for Scottsdale Healthcare, where she has served for over 20 years in multiple roles. Righi also serves as director for the Home Health Department, Professional Nursing Education and the Magnet Project Director. Under Righi's leadership, Scottsdale Healthcare recently received the prestigious recognition of Magnet status for excellence in nursing care. Her clinical interests are in the elderly and functional status. Her management interests are in building excellence in nursing practice.
Christine Weidinger
College of Arts and Media, Class of 1970
Christine Weidinger has enjoyed a distinguished career as an operatic soprano, starring in most of the world's major opera houses. The Arizona native made her debut at the Metropolitan Opera. She has shared the stage with the likes of Luciano Pavarotti, Placido Domingo, Montserrat Caballe and Marilyn Horne. Her wide-ranging repertoire includes works by Verdi, Mozart, Donizetti and Wagner. The German press celebrated her as "the miracle soprano." Equally enthusiastic, the Italian press described her as "a genuine prima donna in full measure." Weidinger teaches voice in Durham, NC and heads the Triangle Opera Studios, an organization founded to provide performance opportunities for singers seeking to begin professional singing careers.
Kevin Warren
Basketball Student-Athlete, Class of 1986
Kevin Warren holds three fourth-place GCU basketball records: 1,120 points scored over a two-year career at GCU, 23.3 points averaged his senior year and has GCU's fourth best single scoring game against Concordia College in 1984 with 42 points. Warren earned GTE/CoSida Academic All-America as a senior along with NAIA Academic All-America honors and NAIA All-District VII honors as both a junior and senior. Warren worked with the international law firm of Greenberg Traurig, the Detroit Lions and the St. Louis Rams. Currently Warren is in his eighth year with the Minnesota Vikings as vice president of legal affairs and chief administrative officer. This begins his 14th season in the National Football League.
Outstanding Senior Awards
The Outstanding Senior Award recognizes students who have exemplified academic excellence, service, faith and the GCU spirit during their undergraduate years on campus. This award is presented to a select group of graduating seniors who were selected by leadership in the areas of academics, athletics and student affairs.
Eligibility
Student must have attended GCU for a minimum of two years
Student must have a cumulative GPA of 3.0 or higher
Student must be a traditional campus graduate during the 2017-18 academic year
Criteria
Academic excellence
Contributions and service to the university campus and surrounding community (work, athletics, organizations, clubs, volunteer work)
Exemplifies GCU spirit and Christian ideals taught by the university
Past Outstanding Seniors
2018
Bianca Boling
College of Humanities and Social Sciences
B.S. in Psychology
Bianca has been on the GCU softball team for four years. She was a member of the GCU Honors College, where she served as a project management intern, the National Society of Collegiate Scholars, Alpha Chi National Honors Society and the Psi Chi National Honors Society. She plans to receive a Doctor of Psychology in the clinical psychology program at Midwestern University in Phoenix. She is pursuing a career as a forensic psychologist.

Isaac Allanrem

Colangelo College of Business
B.S. in Business Marketing
Isaac was a member of the track team and holds the GCU indoor track-and-field record in the 400-meter dash as of 2018. He participated in the 4×400 m on the WAC indoor and outdoor championship teams. He was also treasurer for the GCU African Student Association, a member of the National Society of Collegiate Scholars and a marketing fulfillment assistant in the marketing department. He aspires to become a marketing executive.
Emily Ghena
College of Science, Engineering and Technology
B.S. in Biology with an Emphasis in Pre-Medicine
Emily was an Honors College student worker for over three years, serving as both a CSET liaison and head Honors College liaison. In 2016, she was recognized with the Honors College Distinguished Achievement Award. Emily has been the chapter president for the National Society of Collegiate Scholars and spent three years as founder and president of the Honors STEMists organization. With this group, Emily has traveled to the Dominican Republic on a medical mission trip.
Kaitlyn Leppa
College of Humanities and Social Sciences
B.S. in Psychology
Katie was part of various clubs including Psi Chi and the Thundering Herd Pep band. During her time in pep band, Katie was the clarinet section leader. Katie will be continuing her education with a master's in professional counseling with an emphasis in trauma at GCU.
Zachary Merhavy
College of Science, Engineering and Technology

B.S. in Biology with an Emphasis in Pre-Physician's Assistant
Zach was an intern in the Honors College where he led a team of 20 students and chapter advisors in five different honors societies. Zach was actively involved with 12 clubs on campus and held leadership positions in several of them. He hopes to attend medical school in 2019 to earn a MD/PhD.

Jedidiah Woods
Colangelo College of Business
B.S. in Business Administration
Jedidiah was a resident assistant, a member of ASGCU and president of the Spikeball Club. He was a cofounder and director of public relations for TedX GCU. He also was the cofounder of Storage Together, primarily in charge of operations and project managing. He currently works with GCU admissions as a photojournalist.
Marco Burgarello
Colangelo College of Business
B.S. in Finance and Economics
In his two years at GCU, Marco served as a team lead for local outreach, a life leader, a project manager for Discover GCU and director of operations for TEDxGCU. Marco also launched a prison ministry for GCU, building the first organization in the country that enables volunteers under the age of 21 inside a prison facility. After graduation, Marco will marry another GCU alum, Caitlin Ferree, and begin a prestigious two-year fellowship with Venture for America- where he will work for a startup company in an emerging city in the United States.
Joshua McGuire
Colangelo College of Business
B.S. in Finance and Economics
Josh founded several startup companies including Storage Together and Prophet Insight, both Canyon Challenge finalists. Josh worked in the Honors College as a project management intern, as a student leader on ASGCU, as a club advocate and a senator at-large his sophomore and junior years. Previously, he served as president for Defenders, Circle K International and Friends of the Pen.
Gabriela Marrama
College of Arts and Media
B.A. in Advertising and Public Relations with an Emphasis in Advertising Design
Gabriela served on ASGCU for three years as a public relations coordinator, an FCC Director and most recently as the administrative vice president. Additionally, Gabriela was the lead marketing intern for the Honors College as well as a board member for the Alpha Chi National Honor Society and an active member of the National Society of Collegiate Scholars. After graduation, Gabriela plans to receive a master's degree and work toward her dream of working on the marketing team for the Olympic Games.
William Babyar
Colangelo College of Business

B.S. in Business Management
In addition to Bill's business degree, he has a minor in marketing and graduated as part of the Honors College. Bill was part of many areas of campus, including: HAVOCS, Mr. GCU, Lip Sync, resident assistant, various student worker positions, and advisory boards. Bill's favorite memory was rushing the court after a win at home against NMSU in January 2016.
2017
Kaitlin Bailey
Colangelo College of Business
B.S. in Business Management
Kaitlin has been heavily involved in Accounting Society and several service opportunities during her years at GCU. A Colangelo College of Business faculty member said, "Not only is Kaitlin an outstanding CCOB student, but she also received three internship offers from CPA firms. She worked part-time while in school as well as contributed significantly with the Accounting Society Club. She truly represents the servant leadership and Christian heritage of GCU." In May, Kaitlin will be leaving for South Africa for her first mission trip through GCU. After graduation, she plans on completing an accounting internship and starting the Master of Science in Accounting at GCU.

Tori Colgan

Colangelo College of Business
B.S. in Business Management
Tori is a business management major with a passion for the development of economic, relational and spiritual strength within local and global communities. During her time at GCU, she served as an RA, Life Leader, Lopes Support Network Group Leader and operations task manager for TedxGrandCanyonUniversity. She also interned with the Arizona Governor's Office of Youth, Faith and Family. One of her nominators wrote, "Tori is going to be a game changer and culture shaker in her generation." Tori is preparing for a career in law or strategic development after graduation.
Ondrej Kohutiar
Colangelo College of Business
B.S. in Business Management
Ondrej thinks GCU is a remarkable place. He values GCU's Christian spirit, approachable faculty and fun events. While at GCU, Ondrej participated in the Arizona Junior Achievement Stock Market Challenge and led a team in the finance challenge. His nominators described the admiration that his peers have for this work ethic and enthusiasm. One of his nominators said, "Ondrej brings diversity, a foreign perspective, selflessness, generosity and maturity to every situation. His viewpoints make every discussion more fulfilling." After graduation, Ondrej plans to pursue his master's degree at GCU.
Genesis Cortez
College of Nursing and Health Care Professions
B.S. in Nursing
Genesis has had a busy college life here at GCU through multiple leadership roles. She successfully founded a professional club on campus, which is now the official learning community for the College of Nursing and Health Care Professions. As an honors student at GCU and top ten percent of her graduating class, she has received invitations to join Alpha Chi and the National Society of Collegiate Scholars. In addition, she brought speakers to the inaugural TEDxGrandCanyonUniversity and has served as secretary of the International Club. Despite being a first-generation college student, Genesis has shown that when dedication backs up a person's dream, nothing is out of reach.
Hillary Gavino
College of Humanities and Social Sciences
B.S. in Justice Studies
Hillary's involvement at GCU has included being a RA for two years, participating in Mock Trial Clu, and being part of the Honors College. She also has an internship with Senator John McCain. An instructor in the College of Humanities and Social Sciences described Hillary as a "motivated young lady who embodies the kind of youthful vigor, joy for learning and a university environment that we would want to foster in any student." After graduation, Hillary plans to stay in Phoenix with the goal to attend Sandra Day O' Connor Law School.

Steve Hunsaker
College of Science, Engineering and Technology
B.S. in Biology
Steve contributed to the growth and success of the GCU Havocs, the best student section in the country. He served as the vice president and Game Day coordinator for the Havocs during the 2015-16 school year before becoming president for the 2016-17 school year. He had heavy involvement planning Lope-A-Palooza, Midnight Madness, all home basketball games and the Havocs most recent appearance at the NCAA Final Four. Under Steve's leadership, the Havocs have received attention from USA Today, The Bleacher Report, SB Nation and several other media outlets. Steve also works as the corporate partnership intern for the Arizona Diamondbacks. After graduation, he plans on staying in Valley and cheering on the Lopes.
Thomas Varkey
College of Science, Engineering and Technology
B.S. in Biology
Thomas Varkey is one of the founding members of the Anatomy Club and Honors College. He currently serves as the president of the Honors College and is the inaugural Speech and Debate Team chaplain. All of his nominators complimented his academic service to others and his willingness to help his peers succeed. After graduation, Thomas will be starting his MBA and working as an instructional assistant as he applies to medical school. He has aspirations to be a physician in the fields of either obstetrics and gynecology or internal medicine.
Thomas Rotering
College of Science, Engineering and Technology
B.S. in Biology
Thomas led the GCU Speech and Debate Team to nationally recognized success as a founding member while earning a B.S. in Biology. He participated in two mission trips with GCU to Honduras and Nicaragua. Thomas also enjoys playing violin at his home church. One of his nominators wrote, "Thomas is the epitome of Christian witness, stewardship and service in everything he does. There is no finer example of faith, service and excellence." After Thomas earns his degree, he hopes to go into global health and fight communicable diseases.
Jordyn Allen
College of Science, Engineering and Technology
B.S. in Biology
Jordyn Allen is obtaining a B.S. in Biology with an Emphasis in Pre-Medicine and has been working for the College of Science, Engineering and Technology since January 2015 where she assists full-time faculty and staff. She is scheduled to take the Medical College Admission Test in June 2017 and hopes to attend medical school in fall 2018. For one of her recent personal projects, she collected 400 pounds of clothing, toiletries and non-perishable foods for the Phoenix Rescue Mission. During her year off, Jordyn has been offered a position to work as an instructional assistant while she earns a Graduate Certificate of Completion in Forensic Psychology. She plans to ultimately fulfill her dream of becoming a medical examiner.
2016
Joshua Braun
Colangelo College of Business
B.S. in Business Management
Josh Braun is the starting guard for the GCU men's basketball team. Not only has Josh burst on the scene after overcoming injury obstacles to lead GCU Hoops to its record-breaking season, but he has been a tremendous leader for the team and student body. Josh has a long list of accomplishments to add to his resume after the 2015-2016 campaign. He was a first team All-WAC selection, led the WAC in free throw percentage, ranked second in scoring and third in 3-point field goal percentage. He displays excellence not only on the court, but in the classroom. Josh has been named to the 2015-16 first-team Academic All-America Division I men's basketball team by the College Sports Information Directors of America. He is Grand Canyon's first-ever All-Academic first team selection in men's basketball. The Athletics Department proudly honors Josh Braun as an Outstanding Senior Award recipient.

Calie Donovan

College of Theology
B.A. in Christian Studies with an Emphasis in Biblical Studies
Calie Donovan is an outstanding Christian Studies student who excels in scholarship and service. Last year, Calie won the College of Theology's first annual best student paper competition. She is a servant-scholar who has demonstrated genuine care and compassion for her peers through participation and service to her classmates. Calie has volunteered with Feed My Starving Children and shown her commitment to serving and sharing the Lord with others in a previous mission trip to Liverpool. She is a shining example of the kind of Christ-focused leader we at GCU aim to prepare. The College of Theology proudly honors Calie Donovan as an Outstanding Senior Award recipient.
Cody Dumas
College of Arts and Media
B.A. in Digital Film with an Emphasis in Screen Writing
Cody Dumas has been an active and influential member of the GCU community since his freshman year. While holding a job and student leader position, Cody has maintained an exceptional GPA and will be graduating with the highest honors, Summa Cum Laude. As Student Body President, he serves the school through work ethic, availability and conceiving important student-oriented initiatives like the It's On Us campaign, Mental Health Awareness Week and the Lopes Support Network, among others. Cody sets a strong example for GCU spirit and faith through his joyfulness, helpfulness and leadership in team prayers and devotionals. Perhaps his most distinguishable qualities are his high integrity and genuine connection with GCU students and staff. Cody will be leaving a strong legacy of leadership and service here at GCU. The Office of Student Engagement is proud to honor Cody Dumas as an Outstanding Senior Award recipient.
Alena Gladwin
College of Science, Engineering & Technology
B.S. in Biology with an Emphasis in Pre-Medicine
Alena Gladwin has distinguished herself in many ways. She is a member of the Alpha Chi Honor Society and the Honors College and has earned two gold medals at State HOSA academic competitions. She traveled to Uganda with GCU and CURE medical mission trip, has served this year as a Life Leader, is a member of the GCU Pep Band and founded the first scientific research journal club on campus. While excelling in all of these areas, Alena has still found time to volunteer at the Southwest Autism Research and Resource Center. Graduating Summa Cum Laude with a degree in Biology with an Emphasis in Pre-Medicine, the College of Science, Engineering & Technology is proud to honor Alena Gladwin as an Outstanding Senior Award recipient.
Kelsey Hillman
College of Arts and Media
B.A. in Theatre and Drama
Kelsey Hillman jumped into the theatre department with both feet as soon as she arrived on campus four years ago. She has been integral in the success and organization of all theatre productions including stage manager, event coordinator, actress, and organization of the entire College of Arts and Media processes. Professors note that her diligence to academic excellence has always surpassed those of her peers, despite the time and emotional demands of stage production and management. Kelsey is an outstanding spiritual leader, demonstrated by her commitment to lead the weekly theatre bible study. She exemplifies the work ethic and faith-centered motivation that GCU promotes. The College of Arts and Media is proud to honor Kelsey Hillman as an Outstanding Senior Award recipient.

Brittany Holen
College of Business
B.S. in Sports Management
Brittney Holen is described by her sports management professors as an "absolute superstar." She was an inducted member of the GCU Honors College and is a Delta Mu Delta International Honors member. Outside the classroom, Brittney might shine even brighter. She earned a highly coveted internship with Position Sports where she assisted operations of Chris Paul Basketball Camp, created content for Basketball Hall of Fame social media accounts and travelled across the country to assist Nike brand activation. On top of all of this, Brittney is the two year team captain of the women's golf team after beginning as a walk-on freshman. She is President of GCU Sports Business Club, President of GCU Student-Athlete Advisor Committee and has plenty more successes ahead of her. The Colangelo College of Business proudly honors Brittney Holen as an Outstanding Senior Award recipient.
Jennifer Hotchkiss
College of Nursing & Health Care Profession
B.S. in Nursing (Pre-Licensure)
Jennifer Hotchkiss's peers describe Jennifer as a passionate and genuine individual who greatly impacts those around her, even when she isn't trying to. Jen will be graduating with a Bachelor of Science in Nursing in only three years. The hard work and care demonstrated in her studies is also evident in her service to those around her. As a servant-scholar, Jen partnered with a South Phoenix children's ministry called Barrio Nuevo where she tutors, leads bible studies and spends time with underprivileged children. In addition, Jen volunteers at the New Life Pregnancy Center just to the east of campus. From performing medical procedures like ultrasounds, health tests and counseling to translating for clinicians and patients, her presence is impactful. The College of Nursing & Health Care Professions is proud to honor Jennifer Hotchkiss as an Outstanding Senior Award recipient.
Brenda Lara
College of Humanities & Social Sciences
B.S. in Justice Studies
Brenda Lara is a Justice Studies major and an active member of the GCU community. As a freshman, Brenda was accepted to form part of the inaugural class of the Honors College and has not looked back. Because of her dedication to her position as Vice-President of the Lopes Justice Society, Brenda was recognized with the Honors College Leadership Award. She also received the Career Services Student Worker of the Month Award as the Study Abroad Specialist and Honors College Assistant. As a volunteer at the CASA Academy in Central Phoenix, Brenda acts as Spanish and English translator for the elementary school's conferences and events. She has an immensely positive impact on people's lives through her hard work, self-responsibility and foundational Christian ideals. The College of Humanities & Social Sciences proudly honors Brenda Lara as an Outstanding Senior Award recipient.
Brenna Roth
College of Education
B.S. in Secondary Education with an Emphasis in English
Most know her as one of the Cheerleader captains, but Brenna Roth is more than someone with a great amount of spirit. Her friends and professors agree that everything she does is done with integrity and shows her faith and character. Her work in the classroom is exceptional and while maintaining a very busy schedule for cheerleading, she has never used that as an excuse. On a number of occasions, Brenna has led the basketball pre-game prayer and is not shy about using her platform to share her faith. Now a student teacher at her alma mater, Northwest Christian High School, her heart for her students not only adds amazing benefit to academic learning, but provides valuable encouragement and direction for their lives outside the classroom. The College of Education is proud to honor Brenna Roth as an Outstanding Senior Award recipient.
2015
Aaron Arellano
College of Science, Engineering and Technology
Bachelor of Science in Biology with an Emphasis in Pre-Medicine
Aaron was an exceptional student who impressed many of his professors. Aaron served as the AzHOSA public service co-chair and was a very active member in the group. Aaron also worked in the GCU Learning Lounge, participated in the Pep Band and exemplified GCU's mission of service by performing a significant amount of volunteer work each semester, including being involved with efforts on behalf of the Hope for Hunger food bank since Aaron graduated cum laude with a degree in pre-medicine biology degree.

Caylah Baldwin

College of Arts and Media
Bachelor of Arts in Digital Design with Emphasis in Web Design
Caylah was one of the first graduates in GCU's web design program. While obtaining her degree, she interned for a local brand and web design agency in Scottsdale, called Big Fish Creative. She did such an amazing job in her internship that the company asked her to stay on as a full-time employee. During Caylah's time here at GCU, she played an active role in the GCU Design Club and volunteered her time to organizations like Feed My Starving Children. Caylah truly embodies the Christian values that are core to GCU. She is someone who will go far in her career, and we know will be a shining example of a GCU design alumna.
Jordan Burnidge
College of Theology
Bachelor of Arts in Christian Studies
Jordan's professors describe him as a man of God who exemplifies the three pillars of the College of Theology. His commitment to living in light of the Gospel daily, his service in his local church and his engagement in seeking to share the Gospel with others is truly amazing. His commitment to learning and living God's word can be shown through his mission trips and weekly meetings with his professors and peers to discuss God's work in their lives and to pray for one another. Jordan displays maturity beyond his years, and his professors look forward to seeing what amazing things he does after graduation.
Matthew Friesen
Student Affairs
Bachelor of Science in Business Management
Matthew demonstrates not only the highest levels of commitment to the university community through student leadership and lacrosse, but has also done so while pursuing academic excellence. Matt is the perfect example of a GCU student who has not only excelled during his journey at GCU, but has also prioritized giving back and serving the GCU community, exemplifying the very best of what it means to be a GCU student.
Charlotte Jaengkit
Athletics, Women's Golf
Bachelor of Science in Finance and Economics
Charlotte has been an exceptional student-athlete during her time at GCU. Her hard work and dedication to the women's golf team, as well as her academics, are the reasons she has won four straight tournaments in 2015, been named the WAC Women's Golfer of the Week on three occasions and been named to the Academic All-WAC Women's Golf Team for her high cumulative GPA.

Jared Monroe
College of Humanities and Social Sciences
Bachelor of Science in Counseling with Emphasis in Addiction, Chemical Dependency and Substance Abuse
Jared turned a tragic accident that left him paralyzed into doing something valuable with his life and serving a greater purpose. Jared was the first president of the GCU Counseling Club, growing it into an active club that is involved in many places in the community, including the Arizona State Hospital. It was there that patients felt so connected to Jared that he was asked to volunteer on a regular basis.
Ashley Sanchez
College of Education
Bachelor of Science in Elementary Education and Special Education
Ashley is an excellent student who was dedicated to learning at her practicum and student teaching sites. She will be a tremendous educator. Ashley was a membership coordinator for Alpha Epsilon Gamma, GCU's chapter of the Kappa Delta Pi International Honor Society in Education, and treasurer for Educators Rising of GCU. She was an exemplary student working in the College of Education. Her professors think very highly of Ashley and look forward to hearing her accomplishments after graduation.
Austin Walker
Colangelo College of Business
Bachelor of Science in Sports Management
Austin shows an enthusiasm and excitement for learning that is demonstrated in his high GPA. He was an exceptional intern with the Arizona Diamondbacks and the first president of the GCU Sports Business Club. Austin had the honor of speaking on behalf of GCU students at the Colangelo College of Business dedication ceremony last year. He is a person of strong faith, character and integrity.
Vanessa Wawrzyniak
College of Nursing and Health Care Professions
Bachelor of Science in Nursing (Pre-Licensure)
Vanessa was treasurer of the Student Nurses Association and a class representative throughout her coursework in the nursing program. Vanessa participates in community outreach projects and volunteers for service activities, which has not only contributed to her own personal growth, but also to those she has served.
Outstanding Faculty Awards
Outstanding Faculty Awards are given to exemplary faculty during the annual Senior Dinner. These faculty members are nominated by the graduating senior class for their influence, enthusiasm and love for GCU. They have positively impacted students and continue to make a difference in the lives of the GCU community.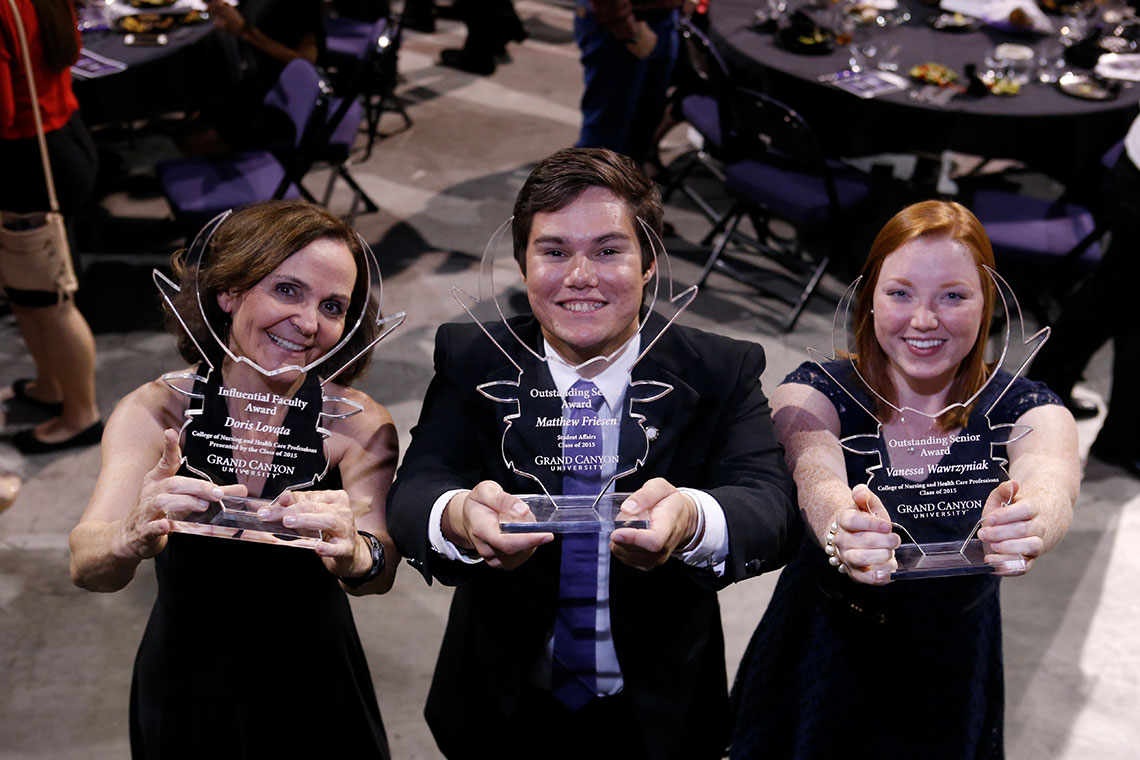 Past Outstanding Faculty
2017
Jeremy Mack
Student Engagement
Director
Jeremy Mack is the director of Student Engagement, which is home to a number of Student Life departments including clubs, intramurals, commuter life and ASGCU. He has been at GCU since summer 2008 and has served the university in Student Life for three years. A nominator wrote, "Jeremy has encouraged student leaders and helped them to grow on a daily basis. He has helped me have the best experience here at GCU."
Joshua Danaher
College of Humanities and Social Sciences
Assistant Professor
Joshua Danaher is an assistant professor in the College of Humanities and Social Sciences. He has taught a number of communications, research methods and public speaking courses during his six years in the GCU classroom. A nominator wrote, "Professor Danaher is one million percent the best professor on this campus. He genuinely cares for his students and challenges them not just academically, but personally, spiritually and socially."

Tammy Drewett
College of Nursing and Health Care Professions
Assistant Professor
Tammy Drewett is an assistant professor in the College of Nursing and Health Care Professions. After joining GCU seven years ago, Professor Drewett started teaching clinicals and has been in the classroom for the last three years. A nominator wrote, "Professor Drewett has made my time in the nursing program memorable and more fun than I expected. She has encouraged me, made me better and pushed me when I didn't think it could do it anymore."
2016
Nicole Clifton
Student Affairs
Resident Director
Nicole Clifton is a Residence Director in the department of Residence Life. The dedication she has shown not only to her position, but most importantly to her students, is outstanding. She expertly promotes the mission and values of GCU through her servant leadership, love, understanding and encouragement. Students say that Nicole walks side by side with them through all of their ups and downs and inspires them to pursue their passions. Her heart for students is what gives her a stand-out Residence Director. The senior class is proud to honor Nicole Clifton as an influential staff award recipient.

Kelly Damron

Colangelo College of Business
Assistant Professor
Kelly Damron is an assistant professor for the Colangelo College of Business. She is greatly recognized for her ability to create a classroom environment conducive to learning and retaining information. Her students acknowledged that accounting may not be the liveliest topic, but that Professor Damron always made class interesting and fun. She is dedicated to her students' success and it shows in the way she uses any teaching method necessary to help them understand the often complex information. The senior class is proud to honor Kelly Damron as an influential faculty award recipient.
Daniel Diffey
College of Theology
Assistant Professor
Dr. Daniel Diffey is an assistant professor for the College of Theology. As acknowledged by his students, Dr. Diffey embodies the ideal representative of a theology professor. He is deeply caring for his students and has spoken many truths into their lives. He has fostered and encouraged growth not only academically, but in personal relationship with Christ. He has been instrumental in forming Bible study skills that will resonate with students forever. The senior class proudly honors Daniel Diffey as an influential faculty award recipient.
Pascal Lee
College of Nursing and Health Care Professions
Instructor
Pascal Lee is an instructor in the College of Nursing. She has been a guidance counselor and positive influence for all of her students. Professor Lee has a personal investment in her students through which she has shared many life lessons that go beyond the classroom. She is nurturing in her teaching methods, challenging in discussions and highly knowledgeable in life and academics. Her ability to be personable with each student gives them a sense of belonging and purpose. The senior class is proud to honor Pascal Lee as an influential faculty award recipient.

Jim Mostofo
College of Education
Assistant Professor
Dr. Jim Mostofo is an associate professor for the College of Education. Earning high praise from his students, they describe him as being an amazing professor who goes above and beyond to help. Dr. Mostofo is supportive and gives knowledge and practices that are applicable and realistic to students' future jobs in education. He has instilled in his students the passion to teach and has shown true love and care for their futures. Many of his students have said that they know they will be better teachers because of Dr. Mostofo's instruction. The senior class is proud to honor Dr. Jim Mostofo as an influential faculty award recipient.
Will Primack
College of Science, Engineering and Technology
Instructor
Dr. Will Primack is an instructor for the College of Science, Engineering & Technology. He brings a great liveliness to the classroom that helps students enjoy learning. Despite the large amounts of information taught in science courses, Dr. Primack finds a way to make it easy to learn. He has been a mentor to many and is encouraging and selfless. His impact on students' academic success will stick with them into their careers and all through life. The senior class proudly honors Dr. Will Primack as an influential faculty award recipient.
Sheila Schumacher
College of Arts and Media
Assistant Professor
Sheila Schumacher is an assistant professor for the College of Arts and Media. She is described as an extremely dedicated professor who has put in a countless amount of time and effort into her students. Sheila has provided multiple resources and extensive feedback to offer students the greatest opportunity for success. Not only has her knowledge and prowess in the design industry been instrumental, but her students often say that she will never give up on them. The senior class is proud to honor Sheila Schumacher as an influential faculty award recipient.
Kevin Walling
College of Humanities and Social Sciences Instructor
Kevin Walling is an instructor for the College of Humanities, Arts & Social Sciences. He is passionate about the material he teaches and it is inspiring. His students say that his encouragement to speak up and be involved in class keeps them on their toes and makes them want to come back to class. Students are always learning and being equipped with knowledge and skills to succeed in their future careers. Professor Walling has been an important aspect to building who his students are becoming academically, professionally and personally. The senior class proudly honors Kevin Walling as an influential faculty award recipient.
2015
Melissa Beddow, MS
College of Science, Engineering and Technology
Assistant Professor
Ms. Beddow has impressed her students with her teaching practices, knowledge in the field of forensic science and dedication to their success. She has inspired and motivated her students and given them valuable advice that will help them succeed.

Leanne Schmidt, MFA

College of Arts and Media
Adjunct Faculty
Ms. Schmidt has a contagious passion for dance and an inspiring drive to see her students succeed. She teachers students to become their best selves through dance and never lets them accept defeat. She is a mentor in both dance and life lessons.
Pete Charpentier, DMin
College of Theology
Assistant Professor
Dr. Charpentier has helped students grow closer to Christ and fuel their passion for their future in theology. He is available to speak with students and gives them the ability to grow spiritually and professionally. Dr. Charpentier's students often say he has helped them realize their goals and direction after they leave GCU.
Joshua Danaher, MA
Assistant Professor
College of Humanities and Social Sciences
Mr. Danaher challenges his students' thought processes in a way that fuels their passion for learning. His love of communications and speaking with intention has made his students more aware of how they would like to influence others intentionally with their words. He also has served as a mentor to many.

Rebekah Dyer, MEd
Assistant Professor
College of Education
Ms. Dyer has inspired many aspiring teachers to be the best they can be. She has helped her students grow as educators and in their faith. She cares about her students and has a great passion for teaching, always letting her students know they are touching lives every day.
Moronke Oke, PhD
Associate Professor
Colangelo College of Business
Dr. Oke has taught her students the value of being accountable for their education. Her students say she challenges them throughout their coursework and has high expectations that she knows they can meet. Dr. Oke has influenced many to apply themselves and take ownership of their education and their professional lives.
Doris Lovata, MSN
Assistant Professor
College of Nursing and Health Care Professions
Ms. Lovata has a gentle spirit and passion for nursing that has inspired many aspiring nurses. Her willingness to get to know students on a personal level has created a trust between them. Her advice has helped students reach their goals academically and will continue to resonate with them after graduation.
Jacob Page
Global and Local Outreach Manager
Student Affairs
Mr. Page has exceptional dedication to GCU's students. He genuinely loves them and has made a great difference in their lives. He is always available for students when they need him.